For someone who loves Mexican food as much as I do, it's crazy that I didn't think to make quesadillas before this week. I was in San Antonio over the weekend and I brought some flour tortillas from Alamo Café home with me (seriously the best tortillas ever). I'm going to freeze most of them for now, but I used a couple last night to try my hand at chicken quesadillas. I made up the recipe as I went along, and while there are a few tweaks I would make next time around, it made for a delicious dinner. Mexican food is comfort food to me, and a week with two exams calls for comfort food!
Grilled Chicken Quesadillas with Fresh Salsa
For the chicken:
1 Chicken breast, fat removed
Cumin
Mexican oregano
Chili powder
For the salsa:
1 Roma tomato, chopped
1 Bell pepper any color, chopped
2 Green onions, thinly sliced (white and green parts)
Small bunch cilantro, to your preference, minced
1/2 tsp Lime juice
1/4 tsp salt
Other ingredients:
1/2 cup Kraft four cheese Mexican, shredded
2 10" Flour tortillas
Butter or olive oil
Dollop of sour cream
Directions:
To season the chicken, rub the spices on the full chicken breast, trying to evenly distribute them. Go easy on the cumin--trust me. Alternatively, you could use a pre-made fajita or taco spice mix. Then, cut the chicken into small pieces, anywhere from 1/2" to 1" depending on your preference. Smaller pieces will make a flatter quesadilla, which will stick together more easily later on, so keep that in mind. Using a skillet with a grill pan preferably, cook the chicken until it is no longer pink in the center. You could also boil and shred the chicken if you prefer, but if you do leave out the seasonings initially. Set the chicken aside.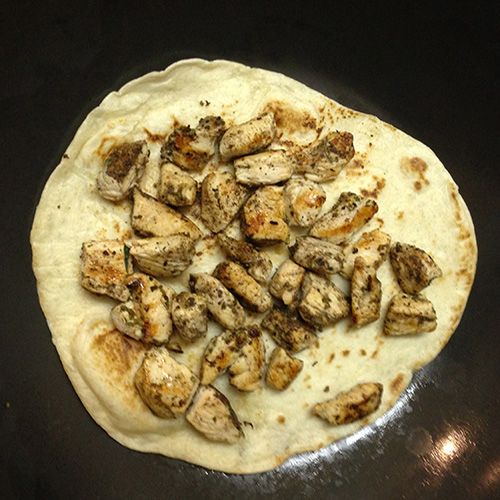 Layer 1 (I realized later that I should have done a layer of cheese first)


Layer 2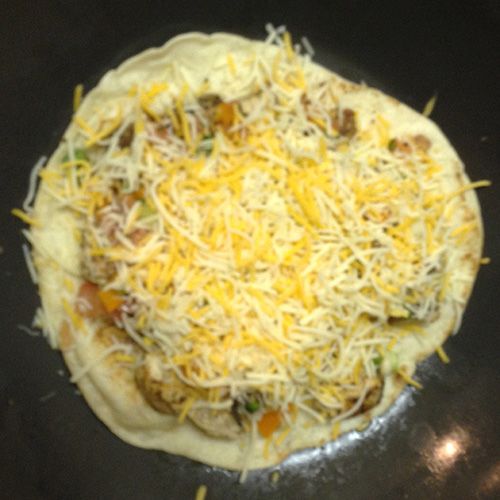 Layer 3 (Sorry for the blurry iPhone pic)
When all of the cheese is melted, transfer the quesadilla to a plate, cut into four wedges with a pizza cutter or knife, and add a dollop of sour cream in the middle for dipping (bean dip or guacamole would also be great). Enjoy!
If you're not hungry enough for a full quesadilla, you can easily halve the ingredients and use just one folded over tortilla. This huge quesadilla was too much for me to eat, but now I have leftovers for lunch today.
If you give the recipe a try, let me know how you like it!